Buying the Right Window Blinds for your Home
Choosing the right Window blinds for your home is almost as difficult as picking out the right windows to put in your home. There are so many styles to choose from, colors, shapes, sizes, and materials it is easy to get lost in the details of the purchase.
Blinds vs. Shades – What are the differences and which should you choose?
Blinds and shades are very similar in the way they control the amount of light and privacy in each room because that is what blinds and shades are used for. The differences are in the quality of light and shade desired.
Blinds
Blinds are considered "hard" window treatments because they are very complete in the blocking of light and privacy. They are available in a lot of different materials including, aluminum, wood, faux wood, vinyl, and natural fabrics. The blinds feature slats that can be tilted and angled as required for light and privacy control for a room.
For small spaces, it is recommended that the slats be wider to help create an illusion o bigger windows. It also helps control the privacy of the space better by the way the window is mostly blocked.
Shades
Window Shades are considered as "soft" window treatments that are available in multiple styles and come in a wide variety of textures, patterns, and fabric weights. They are also controlled by pull-cords which means they can only go up and down. They can be used for smaller windows or very large ones to help control light and privacy.
The Right Blinds
The right type of blind is one that gives you the right amount of light and air for the window; it is going in as well as accents the window with the rest of the room. Using blinds as your window treatment is a way to add character to your room and provide you with a cost-effective and energy-saving way of covering your windows. Long drapes or curtains require a lot more to clean and treat properly for your room. There are different types of blinds to consider for your window treatment and each one can do something for your room and make it into something beautiful.
Different Types of Blinds
Vertical Blinds
Vertical Blinds are blind that hang suspended from a rod in a stacked fashion. They hang freely from a track with a chain or cord woven through their top which allows for them to be rotated to let light and air in or keep it out.  They are made of many different materials, but since they hang freely if they are made from a harder material then tend to make noise.
Venetian Blinds
Venetian blinds are one of the more common types of blind. They are very stylish and are good to dress up many different types of windows. This style of blind has horizontal slats can be made from materials and can be what size will fit a window. There are a lot of variations on this one type of blind from having very large slats to narrow slats or even making the entire thing mini for a small window.
Wood Blinds
Wood blinds can be clean strips of wood that hung horizontally. They usually come in light and dark hues with polished or painted finishes. The blinds are a control tilt system that is hooked up in the headrail. The operator inside the headrail has a pull cord that will tilt the blinds to face upward or downward as needed or pull them to the top of the window. The most common woods used for window blinds are cedar, oak, and bamboo. Wooden blind tend to be lighter than faux wood blinds because they have no additional products to weight them down.
Faux Wood Blinds
Faux wood blinds are actually heavier than regular wooden blind because they are a combination of man-made materials and wood particles which have been pressed together. Faux wood blinds are resistant to warping and are cheaper than wooden blinds. They are also easier to keep clean because they can also be made with recycled materials. They are good for rooms where there may be children or pet present because they are stronger than wood.
Aluminum Blinds
Aluminum blinds are a very cost effective option for any home. They are relatively new to the blinds market, but they already come in several different styles and colors. Aluminum blinds have many points in their favor. They are extremely durable and resistant to moisture which makes them perfect for rooms such as the kitchen or the bathroom.  They can also be made from recycled materials which makes them an eco-friendly.
Fabric/Cloth Blinds
Fabric or cloth blinds are a soft gentle touch to any room. The can be decorative as well as functional. Not only can they come in a variety of colors, style, and fabrics, but they can give a room a homey feel. They are good for helping to muffle sound but are not good in humid areas as they will absorb orders as well as moister. The color will also fade over time from repeated exposure to moisture.
Different Types of Shades
Pleated Shades
Pleated Shades are like other cloth shades. They can be a versatile solution to fitting old fitting spaces. They are often made of treated fabric that is resistant to the deteriorating effects of the sun. These are can be transparent, semi-opaque or opaque materials. This allows for the light to be able to play through the shade adding color and charm to a room.
Cellular Shades
Cellular shades are not the average purchase for most people. They are also known as blackout blind because they are designed to block out light. They are designed to control the light as well as insulate a room. They are made of cloth covered in a Mylar coating to help shade the light and if they are fit seamless to the window they can block out the light, but they are also energy efficient in the way they insolate the room as long as they are made stationary.
Roller Shades
Roller shades are a single layer of fabric that is fitted around a roller barrel which allows for the fabric to raised and lowered as needed. This type of shade prides an unobstructed view outside while providing almost privacy and sun blocking. These shades are popular with families with small children. They can be designed with a cordless spring roller or a continuous cord loop which keeps small children from getting tangled up.
Tie-Up Shades
Tie-up shades are rising in popularity because they can add a touch of class to a room. They are a continuous piece of fabric with two cables that are made of the same fabric that can be raised to the top of the window with parts hanging artistically down. Since they are designed from large pieces of fabric they can be almost any material and color you can imagine. They create a warm and cozy atmosphere that will provide you with a lot of privacy as well as keep your house warm in the winter if the fabric is thick enough.
Solar Shades
Solar shades are exactly what is needed on a hot summer's day. They can be installed on windows and on the skylight and can control glare and heat in the home. They are versatile in the use as the can be manual or motorized for any shape of window. They can be made to be opaque, designed to let no light in or lightly colored to allow light to filter into a room gently. They also come in a wide range of fabrics.
What Blinds for What Type of Window?
Awning
The awning window is designed to have the hinges on the top of the window so it can tilt open to help ventilate a room. This style of window can be left open during the rain. An outside mounting is recommended for this type of window.
Bay Windows
Bay windows project outward from the wall creating an alcove or a nook in the house with glass on all three sides. Smaller blinds, cellular shades or pleated shades are recommended.
Bow Windows
A bow window is a curved bay window. They are difficult to cover. An outside mountain is recommended or drapes.
Window Casement
A casement window opens by swinging inside or outside. The hinges are on the side and the entire window opens with a crank or lever. This type of window often has window screens. Shutters work well with this type of window or cellular shade.
Single Hung Windows
A single hung window has two sashes, one of the top and one on the bottom. The one on the top stays fixed while the one on the bottom slides up and down. Almost any window fixing will work for this window.
Double Hung Windows
A double hung window allows for both sashes to slide up and down in the frame as needed. The depth of the window is an issue because of the design. 1" blinds might work or something outside the windows.
Patio Door
A patio door is one that slides open on one or both sides. Vertical blinds are good for a window like this because of the length that needs to be covered.
Side Slider Windows
A side slider window is one where both sashes of glass slide on both sides. Almost any time of window covering works for this type of window.
Picture Windows
A picture window is a large exposed window that let in a great deal of light. There is also an almost unobstructed view. Vertical blinds are good for a window this size, fabric shades are a good choice as a pleated or cellular shade type this allows for the window to be covered or uncovered as needed.
Angled Windows
This type of window can be angled at the top or the bottom. It is not a full rectangle. It is a choice of what window covering you choose. With a window of this shape, it is usual to cover either the top or the bottom half of the angle.
Sidelight Windows
Sidelight window is many small panes of glass that surround a door to allow in light. Wood, faux wood or mini blinds are recommended for this type of window.
French Door Windows
French doors are surrounded by one or more panes of glass that allow you to see through the door. This type of covering can have shutters, wood blind, faux wood blinds or mini blinds.  While the above list what types of materials and blinds to use for what doors and spaces, it really depends on the space you are the type to cover as well as the look that fits a home. How they are chosen depends on which will work best in their own home is really up to the owner. There are some guideless of selecting which start with, but it is up to the homeowner to put whatever they want where they choose. Though there are differences in how things look and act in a home and it is up to the owner what they want from each room.
Window Blind Materials
Wood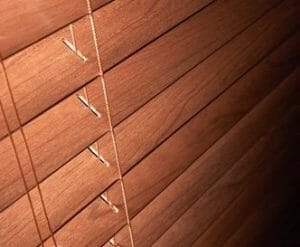 Wood window blinds are popular because they are not only functional but they are durable. They come in genuine oak, Brazilian cherry, cherry, ash, and oak. They are appreciated as window blind because they generally have tight grains in the wood making it hard to let moisture in and they are good for homes where they might get damaged as they are difficult to break.
Faux wood
Faux wood blinds are made of a wood composite material, vinyl or from PVC (polyvinyl chloride). They are much less expensive than wood blinds and they are still made of the quality wood products that one would want in their home. They are very durable and are perfect for climates with extreme temperatures which the heat or the cold is difficult to control. They blinds can survive the wild temperature shifts without being damaged. They will also not stain or rot. The faux wood is also easier to clean by just using a damp rag.
Aluminum
Aluminum blinds are extremely popular because they are affordable, durable, and stylish. They are also non-toxic window blinds which are perfect for children. They are lightweight and resist corrosion, are easy to clean and are effective at blocking the light. They are also a low-cost option for any home.
Plastic
Plastic blinds have the benefit of being very cost effective. They offer the maximum savings for little cost and they come in any number of sizes, style, and colors. The main problem with plastic blinds is that they tend to be cheap and damaged easily. They also block the sun well, but because they are plastic, they often heat up a room more than other types of materials.
Fabric
The beauty of selecting fabric for use in window blinds is the versatility of the fabric. It is easy to clean if you can take them down and they come in a wide selection of patterns and styles. They can let as much or as little light in depending on the thickness of the fabric selected and if used on a roller, they can disappear completely if desired.
Bamboo
Bamboo is a natural and elegant choice for window blinds. They have different colors and styles that can give a room a unique look and appearance. They appear to be delicate, but they are very durable and when treated in a certain way they become moisture and insect proof. They are good for rooms where there are these or more natural colors.
The Future of Blinds and shades
Smart blinds are motorized blinds that you can add to your current blinds or buy them ready made. They come with a smart blind system. These are some of the latest things on the market and they can come compatible with Amazon's Alexa, Google Home, or the Apple HomeKit. There are also several smaller companies that have started manufacturing them. The benefit of such a system is that it reduces the amount of power that gets consumed as the house tries to cool itself once you are able to close the blinds. This allows for remote control of the blinds from whatever location is wanted.
When it comes to dressing up a room the shape and size of the room need to be considered along with the angle to the sun, the amount of wind that the home gets and the amount of privacy wanted. Of course, what the room is to look like is as important as the other things well and to make sure the home is exactly what is wanted. Dressing the rooms for the change of the seasons is part of figuring out what out in the house.