Buying the Perfect Window Shades for your Home
Choosing the right window shade for a home is almost as difficult as choosing the windows themselves. A window shade not only adds elegant decoration to a room, but it can be a practical device for controlling light and air. It is also a way to control privacy. They are perfect editions in any home to add beauty as well as being practical. They can be expensive to buy if there are multiple windows that need to be covered and the latest styles and fashions and trends are being considered, but they can be cost effective if bought on sale or during a holiday.
The thing about shades is that they are made to make a home practice, but the more modern designs are also elegant and add a touch of class to a home. Window shades are perfect to add to your home to help control light and for privacy. They come in various thicknesses, colors, and styles to help decorate any window in a home with a touch of class and privacy.
The most popular styles of shades are:
Woven Wood Window shades are perfect for your home office or for rooms that are temperature sensitive. This type of shade is made of bamboo which is interwoven together to create a tight weave of thin wood. It helps block the light and if it made of bamboo it helps protect against ultraviolet rays of the sun. It is also considered to be trendy and a modern addition to any home.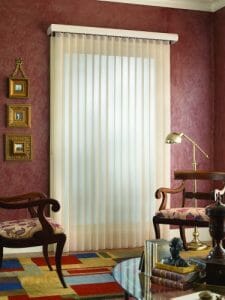 Luminette Shadings are also known as Luminette Privacy Shades. They are one of the more modern window treatments and are perfect for large windows. They offer privacy while at the same time allowing for them to be tilted in so the sunlight can shine in. It's useful for diffusing light while offering the privacy of home.
Roller shades are a simple and unique way to cover a window. They are a length of cloth on a barrel roller that can be adjusted with a cable system. They are a simple design to directly block the light of the sun and provide privacy or to allow for them to be rolled right up to the top of the window to let the sunlight shine in. The fabric can be raised and lowered as needed for the home. They also allow for an unobstructed view outside while providing complete privacy while lowered.
Pirouette window shadings are fabric blinds that allow for a vertical tilt. They offer a soft sheer way to decorate a window while maintaining the privacy of your own home. They protect against ultraviolet light and while the design of them is like window blinds that tilt up and down, it is softened with the use of fabric. The fabric lies smoothly and completely together when closed to help prevent light leaking around the edges of the blinds.
Silhouette window shadings soften the light and make a beautiful room delicate. The thinly covered light offers your protection from the harmful rays of the sun while appearing to float in your window providing you with the privacy to keep your home your own. The silhouette shadings are like blinds but covered in fabric for a smooth line blocking the sun when you want it and for gentle paths of light when you do want to let the sunshine in.
Honeycomb shades are also known as cellular shades. This type of shade comes in many different styles and power options. They can come in a wide range of materials including semi-sheer, light filtering, room darkening, and blackout. These attractive and versatile shades come in single thicknesses to triple thick as needed for a room and top-down/bottom-up operation as well as continuous cord loop and vertical options. There is even a cordless version that is safe for children.
Roman window shades are a cloth shade that is used to block light and to give privacy. It is called a Roman window shade because of its unique design. When the shade is drawn up, the material stacked up evenly at the top though when they are open, the shades lie smooth against the glass of the window. They are opened with a cord mechanism that can be found to the side of the shade. It allows for the shade to be drawn up and stacked at the top or let hang smoothly at the bottom. This type of shade can be made from a variety of materials including various kinds of wood and fabrics.
Materials
Choosing the right type of fabric for shades is essential to how the room will function as well as how long the window treatment you have selected will last. If you include a lining with the blind that it can help extend the life of the curtain or shade. There are things to consider when picking a material not only decorate a house.
Fabric Weight

Light-Weight Fabrics: If the light is just being filtered into a room and a measure is privacy is being provided, then any fabric that is to be used must be 4 oz/sq yd or less should be used. It is considered lightweight fabric. This type of material is good for sunrooms or to cover a small kitchen window. This type of material comes in light-weight linen, light-weight cotton, and light-weight hemp.
Medium-Weight Fabrics: medium-weight fabrics are good for roman shades or drapes. They are heavier than the lightweight shades by weighing around 5 to 8 oz/sq yd and if combined with a lining they will provide plenty of privacy and will not be too heavy to be made into certain types of shades like Roman shades or drapes. This type of material comes in hemp/cotton muslin, hemp/Tencel muslin, medium weight muslin, medium weight linen, and organic cotton.
Heavy-Weight Fabrics: Heavy-weight fabric is perfect for insulation it is also good to help block out light. A heavy-weight material is anything weighing over 8 oz/sq yd. If this is being used for drapes, they should not weight over 12 oz. because at that point they become too heavy to hang straight and operate especially if they have a lining. Heavy-weight fabrics are good for Roman shades. This type of material is good for Roman shades as long as they are not too large (over 60"x 60"). Heavy-weight fabrics are good for areas that you want to muffle sounds with such as bedrooms, media rooms, dens, living rooms, and great rooms. This type of material comes in hemp/cotton twill, help twill, organic cotton twill, and heavy-weight linen.

Fabric Design

Picking the right fabric for a room means knowing what kind of window treatment you will be using for it. As stated above, certain types of fabric are either too heavy for certain types of window dressing or would be too light for what the intended design is.
Patterns can be used if it will not detract from the rest of the room though make sure to test the fabric before selecting it. Some fabrics do not lay flat or will not hang right after unrolling from or a roller shade or is so thin that it will be easily damaged if it goes up and down too much.
Small prints might not be the best choice for a very large window or space. Though Roman shades can look good in almost any type of print.

Fabric Types

Organic Cotton: Organic cotton is an excellent choice as it is eco-friendly, washable, and it comes in many colors, prints, and in many different weights. Though it can shrink and too much exposure to sunlight can cause the colors to fade or deteriorate faster.
Hemp: Hemp is another eco-friendly fabric that is a strong and washable option for any home. It can also shrink and the colors will fade if it is exposed to sunlight too much. There are also limited choices for colors.
Linen: Linen is another eco-friendly material that is washable and strong. It is also available in almost any color or pattern. This too can shrink in the wash and colors can fade.
Tencel: Tencel is another choice for an eco-friendly material that is washable and strong. It also takes dyes well and is good for drapes or hanging shades.
Silk: Silk is an eco-friendly material that is soft and is easily wove into many different patterns. It can be gorgeous in any design or pattern. It is very strong though the fibers themselves can be weak and easily damaged. This is not easy to clean though the colors stay strong.
Velvet: velvet is an eco-friendly material that just asks you to touch it. This material is strong and soft. It is not easily cleaned and hangs heavily so it is not good for all types of shades.
Bamboo: Bamboo is a light wood that is the eco-friendly except when it has rayon. It is washable, strong and soft, it can also shrink when washed and the colors may fade.
Benefits of Top Down Bottom Up Shades
One of the best innovations to come into the window treatment world is the Top-Down Bottom UP window covering. This helps reduce the number of UV rays that come into a home as well as reduces the glare. These shades can be beautiful and functional. Because of the unique design, they can also be lifted from the bottom to the top and opened from the top to the bottom as designed.
This sort of shade, because of its design, allows for the light to be let in from the top of the window or from the bottom. Is it especially designed to travel up and down the window on rollers so it can be moved as the sun does while letting the light continue to come in? Privacy can be maintained with this sort of shade and it saves money and energy.
The Top-Down Bottom-Up window shade is cordless, meaning it runs on tracks up and down the window frame. This makes it safe for families with children and if it happens to slide out of the track during the course of the day, it is easily slipped back in.
This type of shade is good for rooms where you would want a high level of privacy, but still, need light such as the bathroom or your bedroom. It is also a good choice for rooms that face the main road as it can be placed to cover most of the window while letting the light come in. Best of all, depending on the type of materials used, this type of shade can muffle sounds which are perfect for a condo or duplex sort of situation. Honeycomb or cellular shades are the best for this purpose because of the materials that they can be made out of and the way it can hold itself together while muffling the sounds of the neighbors.
Picking out the right window shades for a home means understanding the wall the light travels over the home and where. It also means knowing where the wind is going to and how to best filter it.  Window shades should be selected on the functionality and their appearance. It needs to fit the rooms and the people living in them. Taking the time to find what is right is what is needed. This means looking at alternative options such as using hemp or window shades that help protect a family from ultraviolet light. For the window shades to work in any home means working as a team to give people what they want and what they need. Fortunately, in this modern era, there are many choices to get a home looking its best, doing it on a budget and doing it in a way that is sustainable.